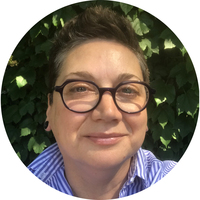 Chris Irick received a BFA in metalsmithing from Texas Tech University and an MFA in metals from UMASS Dartmouth. She was born in Santa Maria, California and has also lived in Utah, Kentucky, Texas, Massachusetts and currently lives in Utica, New York. She has taught jewelry for many years in both college and adult education programs. She is currently Professor of Jewelry & CAD/CAM at Pratt MWP. Her work has been featured in numerous publications including
Metalsmith,
American Craft
and
Ornament
magazines, as well as T
he Metalsmith's Book of Boxes and Lockets
,
500 Pendants & Lockets
,
500 Brooches
,
500 Bracelets
,
The Art and Craft of Making Jewelry
, and
The Penland Book of Jewelry
. Her work has been exhibited nationally and is included in the permanent collection of the Smithsonian American Art Museum and the Metal Meseum.